Welcome to Our Parts Department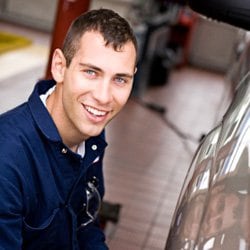 Do you like fixing your vehicle? Are you a bit of a gear head? Then visit the parts department at Titus-Will Ford Sales Inc near Tacoma, WA, where you can find all the parts and accessories you need to fix up your ride. We carry tires, oil filters, wiper blades, and custom Ford accessories, so stop by today and see what we have to offer.
We Carry OEM Parts
Whether you're from Gig Harbor or Sumner, WA trying to fix a Ford F-150, Explorer, or Focus, you'll find we carry a variety of authentic OEM parts and accessories. Manufacturer-designed parts or manufacturer-recommended parts are always best because they're hand-chosen by the same people who designed and built your vehicle. They're guaranteed to fit your ride, work great for a long time, and save you money in the long run by not having to be replaced as often as non-OEM pieces.
We carry just about any piece Federal Way driver could ever need at our parts center. Looking for a new battery, brake pads, spark plugs, or more? You can find it here at our parts center. And if we don't have the piece you're looking for, our team can order what you need and notify you when it arrives. And by filling out the form below, you can even have parts ordered right to your door.
Our Service Center is Here to Help
Although some enjoy fixing their ride, others don't, and that's why we provide a state-of-the-art service center for customer convenience. If you're from the Lakewood area and need help installing a part you bought or need any sort of general maintenance, our certified mechanics are here to help.
Contact Parts Department
Looking for a specific part or want more information about what our parts department can provide? Then contact us online or by phone, and we'll be more than happy to answer any questions you may have. We look forward to helping you out.