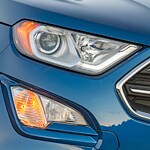 The new 2020 Ford EcoSport is a highly capable compact SUV that is ready for any driving job in Tacoma. Titus-Will Ford Sales Inc can show you the various features that sets this car apart from the rest and help you get the perfect vehicle for your driving needs.
If you live in a hilly area, you'll love the Hill Start Assist system. If you're stopped on a hill, the anti-lock brakes of the EcoSport will hold the car in place for up to two seconds so that you have time to move your foot from the brake to the accelerator. It'll make sure that you don't roll backwards.
To make it easy to load and unload the EcoSport, it comes with a swinging rear door. By opening to the side, it'll eliminate the need to reach or stretch to get the door closed when you're done.