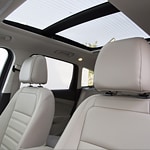 When you are out looking at popular compact SUVs, the Ford Escape should certainly make your list. There are many capability features included with this model that should leave you quite excited. It might be small for an SUV, but everyone inside will have plenty of room. The power that comes from the engine is something special as well.
With four different driving modes to select from, it is possible to tailor-make this SUV for any type of terrain. You can change the mode as the situation dictates, meaning you can take the Escape on virtually any type of trip. This makes it comfortable and convenient.
You will also find that you can tow quite a bit of cargo behind you. With a 2.0L EcoBoost engine, you will have a towing capacity in the range of 3,500 pounds. When you have a moment, stop by Titus-Will Ford Sales Inc and take the Ford Escape on a test drive.